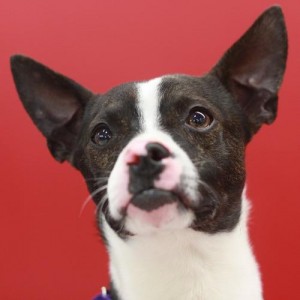 Breed: Boston Terrier Mix
Age: 1-2 years
Weight: 25 pounds
Activity level: Paintball has a high energy level, so he is looking for a family who can give him lots of attention, exercise, and good old-fashioned playtime!
Temperament: Paintball is incredibly affectionate and friendly! He is very playful and always happy! He is such a sweet soul, and he adores being around his foster mom so much that he will even lay across her feet as she stands at the mirror to do her makeup! How adorable is that?
Good with kids?: YES! Paintball is so playful and energetic, he would make the perfect addition to a family with kids who are looking for a playmate!
Good with other pets?: YES! Paintball absolutely loves other dogs, and he is always playing with them! He is also great with cats.
Ideal family: Paintball's ideal family would most definitely include kids and other dogs for him to play with so he will always have a playmate to help him get his energy out! He would also make a great companion for an energetic couple or anyone who could use a great running partner! (Paintball just loves to run!).
Ideal day: Paintball's ideal day would include waking up energetically for a fun-filled morning walk, laying across your feet lovingly while you get ready for the day, playing with any and all kinds of stuffed animals absolutely as much as possible, gleefully chasing after all his new playmate friends (of both two-legged and four-legged varieties!), enjoying some training time while you teach him new tricks (which is the best way to keep an active dog's mind busy to prevent destructive behaviors), and finally, once he is all worn out, cuddling up with the whole family for a lazy Saturday night movie!
Attention level required: Paintball has a high energy level, so he is going to need someone who is prepared to give him lots of attention! He will be fine at home while the family is off at work or school, but he should probably be crated under these circumstances until he can adjust to his new environment.
Housetrained?: Paintball is coming along on his housetraining, but he is not quite there yet! So he needs someone who will be patient with him. He has exhibited some marking behaviors when he enters a new environment, but his foster mom simply put doggie diaper on him for a few days, and the habit disappeared very quickly.
Space needed: Even though Paintball is small, he would enjoy a little extra space to run around in so as to get out all his cute little doggie energies!
Previous experience needed?: The only thing Paintball needs a little help with is housetraining, so he either needs someone who is experienced in this area, or who is willing to be patient while you both learn the ropes together!
The best thing about Paintball: Paintball's foster parents say their favorite thing about Paintball is….EVERYTHING! He has such a loving personality, is incredibly cuddly, very intelligent, even-tempered, and has unparalleled amounts of sweetness! They say the cutest thing he does is try to "talk" back to people who are talking to him. And can we just mention….how handsome is he??? We absolutely adore this little fella, and we can't wait to see his little stubby tail wagging as it accompanies him on his way to his new home! Just meet him once, and we know you will adore him, too! And this little sweetie was absolutely made to be adored.
To meet, inquire about, or fill out an adoption form for Paintball, please visit aarf-tn.com/. Paintball will also be available for a meet and greet at Petco in Cookeville on Saturday, March 9th, from 12-6!