Watch this awesome informational video to learn more about adopting, volunteering, and fostering with AARF!
Who is A.A.R.F.?
A.A.R.F. (All About Rescue and Fixin' Inc.) is small group of volunteers with a passion for animals. It is our goal to save as many lives as we can from needless death.  We are a foster based animal rescue organization based in the beautiful Upper Cumberland region of Tennessee.  We pull animals from high risk situations, such as local animal shelters and local strays from counties who do not have the luxury of having an animal shelter.  In addition to our adoption program, we work closely with many local animal shelters to ensure that dogs are not euthanized for space.  In 2012, we started the AARF Freedom Ride Transport Program, which relocates homeless animals directly from our local animal shelters to guaranteed adoption facilities in the north, who need a wider variety of breeds of dogs to attract adopters into their shelters.  This program has proved successful in reducing euthanasia of canines in our local shelters from around 80% to nearly 10%.
A.A.R.F. is operated out of our volunteers' homes. We are ALWAYS in need of foster parents to help save more lives.  To become an A.A.R.F. foster parent, the only true requirement is that you love animals as much as we do, and that you would treat your foster animals as if they were your own.
A.A.R.F. conducts local and long distance Adoptions daily.  We host monthly adoption events at our local PETCO store, located in Jackson Plaza in Cookeville, in addition to taking part in many of the wonderful community events throughout the Upper Cumberland.  Prior to being considered for adoption, one must complete an adoption application which is forwarded directly to the pets' foster parent for review.  Once approved, local adopters may schedule a time to pick up their new family member from the foster parent.  Long Distance adopters will be advised on transport options available to get their new baby home to them!
Once an adoption is complete, our commitment to that animal and your family continues.  We are available to answer any questions you may have, research advice for issues you may be having with your pets, and the worst case scenario, if something ever were to happen where you could not longer care for your pet, we will ALWAYS accept that pet back into our program with open arms.
How does A.A.R.F. choose who to rescue?
Our volunteers can pretty much guarantee placement of at least 90% of the canine requests received – but it takes work on your part as well.  Because we are foster based, if you agree to step up and foster the dog that you have in your home, then most likely we can help you.  A.A.R.F. does not place aggressive dogs which may cause a public safety issue, nor do our rescue partners.  Our fosters give first priority to the injured, sick, elderly and animals in the highest risk in our community.  We have saved countless puppies from Parvo, dogs who have been injured, shot, run over, etc.  Unfortunately, the feline population is still currently way too high to get the overpopulation problem under control.  To do this, we need your help!  Find a stray?  Have it fixed!  We can all work together to give the felines the same chance as we have the canines – Spay and Neuter!  We believe that every animal deserves a chance to live the life it has been given.   We take as many as space will allow, then turn to you for support – Foster!  Adopt!  Donate!  Volunteer!  Let's save lives together!
Meet Quazzy – arriving at the shelter with his littermates, Quazzy was dragging around an 8lb tumor on his neck!  The option for the shelter was Euthanasia or call AARF – Quazzy has been adopted and is living a great life now!!!
Meet Abbie – Abbie was found in a rural community after being shot by a passerby.  4 Months and a few surgeries later, Abbie can eat, drink, play – and find a family of her own.

How is A.A.R.F. Funded?
Our program survives on donations, as in most cases, the adoption fees do not cover the care that these animals receive.
How is A.A.R.F. Managed?
Our entire program is volunteer based and managed by a small board of directors who have the same passion for animals as our founding members.  We have an AWESOME team of volunteers who handle everything from returning phone calls, to fostering pets, to driving the transport vehicle.    Meet just a few of the AWESOME souls who are a part of our team!
Our Board of Directors
Jennifer Farley, Co-Founder – Treasurer

Jennifer has been involved with animal rescue since 2007. Jennifer has a Degree Accounting and a passion for saving animals' lives.   Jennifer and her family have 6 dogs and 4 cats.
Ariel Marengo – Vice President – Executive Director – Canine Coordinator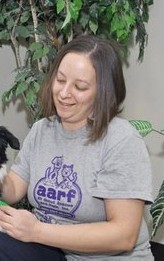 Ariel has been involved with animal rescue since 2009.  Ariel has a degree in Marketing and a passion for saving animals' lives.  Ariel coordinates all things canine – fosters, events, vetting, etc.  Ariel and her family have 1 Dog, 2 cats and lots of fosters!
Heidi Neal – President – Feline Coordinator – Transport Coordinator
Heidi has been involved with Animal Rescue since 2013.  Heidi has a degree in Business and a passion for saving lives.  Heidi coordinates all things feline – fosters, events, vetting, etc.  Heidi and her family have 3 dogs and 4 cats.