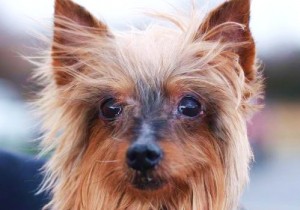 Breed: Yorkshire Terrier (Purebred!)
Weight: 7.5 Pounds
Age: 10 years
Special Considerations: Teensie is a senior pet, which means she needs someone with a great big heart to take her in! But don't worry—even though she is a senior, based on the way she acts, you would never know it! She is so full of life, and she prances just like a puppy (on her most adorable tiny feet)! She has a clean bill of health from the veterinarian, who still can't believe she is actually 10 years old. Bonus: Yorkshire Terriers are one of the longest-lived breeds of dogs, usually living well into the teen years. So this baby has a long life ahead of her!
Activity level: Teensie has a mild energy level. She actually loves her little walks, but she isn't necessarily interested in training for any marathons!
Temperament: Teensie is incredibly loving! She adores everyone, and she is one of the kindest dogs you will ever meet. Despite her tiny diva-like appearance, Teensie is actually very down to earth…she is not an attention seeker, and she is perfectly content to just sit beside you quietly rather than being held constantly. She is also very quiet and rarely even barks!
Good with kids?: Yes! Teensie is very gentle, and she would be the perfect addition to a family with kids, as long as kids are taught to be equally as gentle!
Good with other pets?: Yes! Teensie is currently being fostered with other pets, and she is around any and all kinds of them at our adoption events and does just fine!
Ideal family: Teensie would make a wonderful pet for a family with children! Can you imagine a better way to teach kids about compassion and empathy than by rescuing a senior pet? She is so gentle and so loving, there simply could be no better addition to the family! Teensie would also make an absolute perfect companion for anyone who is just looking for a sweetheart to share their love with! And, for some reason, Teensie just adores men! This chickadee is just one cool little dog, and there's no rulebook that says teacup pups are in any way unmanly!
Ideal day: Teensie would love to begin her day with some warm morning cuddles, followed by breakfast and a short walk. She will occupy herself quietly while you go to work, and give you the warmest welcome on her tiny prancing feet when you come home! She will sit beside you adoringly while you catch up on your reading of any and all James Patterson novels, and finally, she will show off her cuteness of the highest degree when her sweet little face closes its eyes to rest up for another fun day of wiggles and cutiepootery!
Attention level required: Teensie loves to be adored and petted, but she will be perfectly content to rest up fully for these things while you are off at work! (Just bring home a treat for Teensie, maybe?).
Housetrained?: Teensie is paper trained; however, because she came from a home where her elderly owner was not able to take her outside properly, she will need some extra attention when it comes to housetraining. So be patient, and she will get the hang of it in no time!
Space needed: Not a whole lot! Teensie is…well, teensie, so she would fit perfectly in a small apartment.
Previous experience needed?: The only thing Teensie needs a little extra help with is housetraining. Other than that, there is no reason why she would need an "experienced" dog owner. In fact, Teensie's foster mom says she is one of the easiest dogs to care for she has ever had!
The best thing about Teensie: Teensie's foster mom says her favorite thing about Teensie is that she just has tons of personality! She is so very loving, and she is so full of life! Teensie has an incredibly soulful face, and she has the most adorable little overbite you have ever seen! Her look is just as unique as her personality, and the overall combo just makes for one perfect little dog! As hard as we try, words simply cannot describe how wonderful this dog is! You simply have to meet her! Just one look into this sweet face, and your heart will swell to three times its normal size! (Trust us, it has happened to us already!) And the best part is, adopting a senior like Teensie will truly be one of the most rewarding experiences of your entire life.