Chili's proudly supports A.A.R.F.! (All About Rescue and Fixin)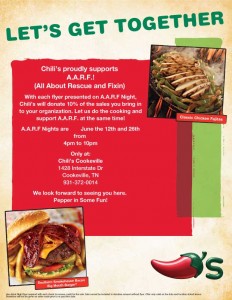 With each flyer presented on A.A.R.F Night, Chili's will donate 10% of the sales you bring in to your organization. Let us do the cooking and support A.A.R.F. at the same time!
A.A.R.F Nights are Sundays – June the 12th and 26th from 4pm to 10pm. Bring the whole family!
Only at:
Chili's Cookeville
1428 Interstate Dr
Cookeville, TN
931-372-0014

We look forward to seeing you here.  Please download and print off this flyer! Click here to download Cookeville Chili's – A.A.R.F. Nights flyer!
Chili's – Pepper in Some Fun!