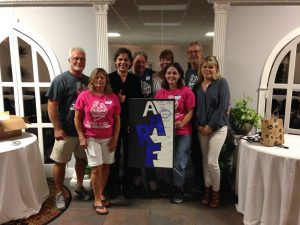 Nearly 250 attendees showed their great generosity recently at the unique AARF Singing Impressionist Fundraiser, Lunch, Dinner, & Auction. The goal for the day was to raise enough donations to cover the expenses for 1 year of transports, thereby saving hundreds of dogs and cats from being euthanized. Due to the awesome crowd bidding "High & Often", we reached our $10,000.00 goal. Visit the AARF Facebook page to see a full album of photos.
The wonderful meal was provided by Doug and Sarah Scarlett and their famous homemade dressing was a hit, so much we sold a bottle in our live auction. The entertainment for the night was provided by singing impressionist Conner Lorre from Atlanta. The crowd was in awe of his amazing talent as they danced to his astounding impressions of Neil Diamond, Steve Perry, and Barry Manilow, just to name a few. All in all, it was a fabulous night for the attendees and for our furry friends.
Thanks to those who helped advertise this event for free, allowing us to have a "sold out show". Specifically we would like to thank Keith Walther of The Vista for 3 months of wonderful ads and First National Bank of TN for posting our event on their digital billboard for 2 weeks.
The Organizers of the event wish to thank all who attended, the many Sponsors, the numerous Businesses & Individuals who gave Auction Items, and our great Volunteers. Please support the following Pet loving Businesses who strongly supported this event: Cash Sponsors- East Tn. Dodge, Timeless Treasures & Gifts, Happy Hound Realty, Erika Wonn, Crossville Heating and Cooling, TASCO Color Group Cookeville, In Memory of Reese Cup, Bean, Smith & Burnett Attorneys, Sav Mart, Bed & Biscuit Kennel, Crossville Smiles, Home Instead Senior Care, Gwin Realty, Jim ParhamExit Rocky Top Realty, Fairfield Homes – Glade Realty, Rich & Sara Myslinski, Phil & Lynne Riley, Ned & Deb Giddens, Mayberry Home Furnishings, LaCosta FFG, Larry Trammel – State Farm, and Plateau Corvette Club; Auction/Product/Service Donations: Advanced Auto Parts, AMPS, Amy Swindle Hair Sensations, April Heavlin Ellusions, Auto Zone, Beef & Barrel, Bed & Biscuit, Best Friends Veterinary, Bev Pitts, Big Boys BBQ, Boone Harman, Brass Lantern, Brooks & Mae Wimberly, Butcher Block, Deb Birdsall/Caring Touch Massage, Carolyn Jones, Cat Fit Yoga, Chestnut Hill Winery, Chuckles, Companion Animal Clinic, Cookeville Antique Mall, Crawdaddy's Grill, The Diner Grill, Dave & Lilly Beach/Arby's, Donna Lucas, East TN Dodge, El Tappatio's, Fairfield Beauty Shop, Flowers Bakery, Food City Crossville & FFG, Fortes, Frank & Diane Howard, Glade Café, Golden Chopstick's, Gondola's, Good Times Liquor, Elisa Burnett Hair Connection, Happy Hound Realty, Tracey Walther/Hey It's Crochet, Janet Harman, Jan's Liquor, J&R Automotive, JP's Nascar Outlet, Jim Hill, Joshua's Pet Treat Bakery, Julie Moorefield, Karen Kulinich, Kim Raby, La Costa FFG, La Costa Crossville, Landscape Solutions, Las Margaritas, Mega Bites, Northside Family Dentistry, One Tail at a Time, Peavine Wine & Liquor, PetSense, Pet Spa, Pet Supply World, Plateau Animal Hospital, Plateau Lanes, Plateau Outdoors, Polished Nail Bar, Rick Amador/Oakleys, Rocky Top 10 Cinema, Roger & Nancy Hardin, Ronnie Webb, Shadden Tire, Simonton's, Spic-n-Span Cleaning, Southern Traditions, Tony Perry/Star Recording/Crossville News First, Staples, Stonehaus Winery, Sweet Effects, Time to Shine, Tony's Place, Tractor Supply, Villa Pizza, Gifts from the Heart, and The Vista.
Also, our deepest thanks to our Core Organizers: Dawniel & Ricky Kendall (Leaders), Star Amador (Creator), Bud Leathers, Donna Lucas, Rick Ames, Kim & Dave Raby, Linda Perry, Julie Moorefield, Karen Lankford and to our Event Volunteers: Randi-Jo Covington, Anna Maria Fouad, Ann Cox, Dee Crooks, Betty Gates, Lindsey Waldrep, and Darrin & Trudi Stryker.
In summary, this was one unique, fun night providing much financial support to AARF ($10,000 net). Please continue to support A.A.R.F. through Donations, Foster Parenting, Volunteering, etc. www.aarf-tn.com. Thanks everyone!