Click here to read the full story on these puppies from the beginning.
JACK is HOME! He arrived on Monday, hungry, healthy and full of energy. He is being transferred to Jenny's foster home in Monterey to recover and get some special TLC today~
I picked up Jack on Monday, and brought Sandy in to replace him. Although there was no sign of blood in stool, she was vomitting bile and was continuing to need fluids. I visited with her today and she looked good. Bright, alert, but still not ready to come home. We are all praying that she will start eating tomorrow -which is always the indicator that they are ready to be released. Dr. McLaughlin and Warlick believe she will recover just fine.
James is just about out of quarantine – no problems, no symptoms, no reactions. He is SUCH a gorgeous pup and will make someone an excellent addition to their family. He stole a toy out of the toy box (apparently he did not like the one I provided him with). Even during playtime, he carried it with him everywhere. I am in love with this pup….he is such a sweetheart!
Sage is my little hoover vacuum. Running around during playtime trying to pick up anything and everyting in an attempt to eat it! SUCH a sweet and loveable personality. Follows me everywhere when she has her run time. No symptoms, reactions or signs. 4 days left in quarantine!
Shannon….she must have some pyranese in her….talk about a sweet, slow, happy-go-lucky personality….she is definitely a keeper!!! Whoever adopts her will be so lucky to have her. No symptoms, signs or reactions. I will really miss her when she is transferred to another foster home!!!
Cassidy has found her peace. We added a new addition on the left side of her on Monday and she seems to have settled down some. no more howling or screaming to get out – just enjoys the company of our new boy to the left of her. She sure did enjoy her playtime tonight. She ran like "Mighty Dog" around my "L" shaped basement – knocking into things, tipping things over – she had SUCH a blast. She ended by jumping on my legs and into my arms for a little nuzzle into my pony tai. She is obsessed with my hair!
Kora – SUCH a sweetie!!! So quiet – never makes a sound – until playtime. It's like she knows that she is here for a reason and she never complains about it. She accepts it and waits for me to come pick her up and cuddle with her. Instead of playtime, she just likes for me to carry her with me while I clean out her crate, make her meal, and get her meds ready. Yes, it is dificult to do this one-handed…but worth it. She likes to give kisses on my nose….she loves my nose!
Natalie – She always seemed like she was cold…so I moved her closer to the wood stove. She sleeps through EVERYTHING now! She LOVES the heat!!! But when she wakes up, watch out! She is ready to PLAY!!!!!!!
Buck – What can I say about awesome little Buck. He has a gant about him that excudes confidence in a dog – let alone a puppy! His newest game is "Hey! Let's see where foster mom stashed the empty cans of food!!!" It is not uncommon for me to find him amidst 2 or 3 at a time. What an awesome dog….anyone would be blessed to have him as part of their family!
As you can see, everyone is doing great! We have NO negative news to report. We have 4 remaining days in quarantine until these WONDERFUL pups can be transferred to other foster homes. Assuming they continue to show no more signs through Saturday, they will receive their second vaccination on Saturday, transferred to new foster homes if available, and scheduled for the spay/neuter surgeries a week or so later. We always try to wait at least 7 days after administering a vaccination before sending them in to be fixed. We want their immune system top notch to prepare for the surgery!
Vet bills are piling up now. Jack's treatment cost around $300. We got more meds today for prevention in the ones here – another $400. Sandy's treatment should be somewhere similar to Jack's if she can come home today. $100/day. We are just continuing to pray for each of these pups, and thanking Best Friends for their continued support of our rescue efforts – and for always extending us the credit that we need to ensure quality treatment for all of our rescue animals.
—————————————————————————————————-
In 2007, shortly after A.A.R.F. began rescuing animals, Hannah and her 2 brothers and 1 sister were rescued from the Hilham area. Within 1 week, parvo symptoms became apparent. All 4 puppies were hospitalized – and only Hannah survived. This was A.A.R.F.'s first experience with PARVO, and it became their mission to learn everything that there was to learn about the disease. Ironically, Jennifer is dog-sitting Hannah this week. She lays below little Linda as if to tell her "I fought – so can you!". Here are some photos of Hannah then and now.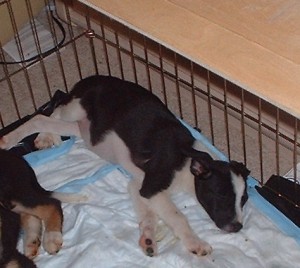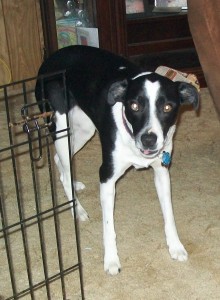 To donate supplies – please call (931) 260-8018 and leave a message to let us know that you are making a donation. You can bring your donations to PETCO and leave them with a manager on duty. We will have volunteers available to pick them up and transport them to Jennifer.
To donate money to help with the expenses, click the "donate" link to the right, or you can bring it to a manager at PETCO, or mail it to us at P.O. Box 4074, Cookeville, TN 38502.
Thank you for your support. For more information on PARVO, please click on the following link: