We in rescue sometimes come across animals that literally take our breath away…like we have trouble breathing at the thought that anyone could treat an animal so poorly.  Such is the case that happened today.  A.A.R.F. received a call from a concerned citizen about 2 severely neglected dogs that her mom had been feeding.  She agreed to take the animals into her care until A.A.R.F. could find a suitable foster placement for them.
We arrived to do an initial analysis of these dogs, two boys, Freckles and Drake, and our hearts literally sank at the sight of them.  Drake was the worst of the two….you could not tell where his ears were amidst the tremendous mattes in his fur.  We continuously lost track of his feet – matting from his torso right down his legs.  He walked with a limp – most likely due to matting and sores underneath this horrific mess.  Freckles had feces caked onto his rear side.  Every time he wagged his tail, we kept hearing a clinking sound.  I cannot express in words how heartbreaking this situation was.
httpv://www.youtube.com/watch?v=36ahiQeQoFs
httpv://www.youtube.com/watch?v=n8bSFVX3kzc
But what always amazes us is that these animals, despite their condition, are always in such GREAT spirits – such as with these boys.  Freckles wagged non-stop, while Drake rolled over on his back and enjoyed rubs to every place we could get to not covered by matting.  The lady who saved these animals stated that before her mom started feeding them, you could literally feel and see every bone in their body.  This abuse / neglect had been going on for quite some time – and we thank her for stepping in and saving these dogs from a slow, agonizing death.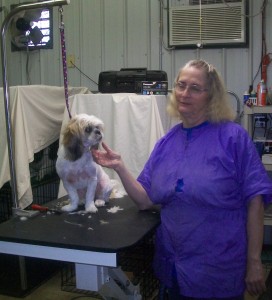 Marilyn Weinke is our groomer – we placed an emergency call to her and were told to bring the boys up immediately.  We expect to pick them up sometime tomorrow and look forward to seeing brand new dogs!!!  Marilyn, who has worked with hundreds of cases similar to this, chuckled when I dropped them off this afternoon…she said that she has seen this and worse, and that I will not even recognize these dogs when I pick them up tomorrow!  We truly appreciate her confidence, and feel so blessed to have her as part of our team.
With cruelty cases such as this, expenses tend to add up VERY quickly.  They need to go on a high calorie, high nutrition content food, and will need to be seen by a veterinarian next week.  A.A.R.F. adoption fees barely cover the cost of the spay/neuter surgeries and typical vetting that we do – therefore we are looking, once again, for assistance in getting these boys seen by a veterinarian to tell us when we should be able to take them in for their surgeries.  Because of the malnourishment and life of suffering that they recently had, they are more likely to have certain diseases and conditions, all which will have to be identified by one our of Veterinarians.  A typical office visit and testing can range from $100-$150 for each dog.  A.A.R.F. relies on the public to take care of these animals financially.  If these animals had shown up at a high kill shelter in the condition that they were in, they would have most likely been euthanized.  Please consider donating to see that they get the medical attention that they need and deserve.