Spring 2018 A.A.R.F. Shirts are here! We have a full range of sizes in several colors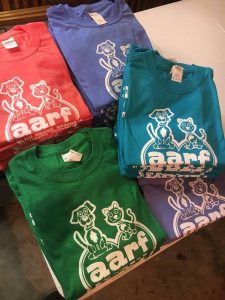 All 2018 shirts and tank tops are $15 donation plus $5 shipping if needed. You can order and pick up for free in Cookeville – we will confirm by email. All our 2017 colors are reduced to $10/each (limited sizes) – email for details!
Please email info@aarf-tn.com to see if the size / color you prefer is available. If you want to order multiple shirts, please email for custom discounts on shipping.